Register by March 1st and Save $50.
Join us April 14th & 15th, 2018 for the first "Hold Me Tight" 2 Day seminar in Abbotsford!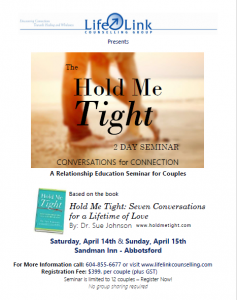 The Hold Me Tight workshop is an experience for couples of bonding through a series of guided and safe conversations designed to help them build new patterns of trust, love and intimacy. There is no group sharing required – only meaningful conversation with your partner.
It is based around Seven Transforming Conversations that include:
Recognizing Demon Dialogues—In this first conversation, couples identify negative and destructive cycles that prevent them from hearing one another's deepest desire for love and connection.
Finding the Raw Spots—Here, each partner learns to look beyond immediate, impulsive reactions, seeking to understand vulnerabilities and fears experienced by their lover.
Revisiting a Rocky Moment—This conversation provides a platform for de-escalating conflict and repairing rifts in a relationship and building emotional safety.
Hold Me Tight—The heart of the workshop experience: this conversation moves partners into being more accessible, emotionally responsive, and deeply engaged with each other.
Forgiving Injuries—Injuries may be forgiven but they never disappear. Instead, they need to become integrated into couples' conversations as demonstrations of renewal and connection. Knowing how to find and offer forgiveness empowers couples to strengthen their bond.
Bonding Through Sex and Touch—Here, couples find how emotional connection creates great sex, and good sex creates deeper emotional connection.
Keeping Your Love Alive—This last conversation is built on the understanding that love is a continual process of losing and finding emotional connection; it asks couples to be deliberate and mindful about maintaining connection.
$399. (plus GST) per couple. Register by March 1st and Save $50.
Space is limited! Call 604-855-6677 to register!